Sellaronda is the Ladin name of the circular passage way (a loop) surrounding the Sella Mountains of the Italian Dolomites. This name was given hundreds of years ago, when the ski pistes and snowboarding slopes didn't exist yet. Nowadays, the Sellaronda is one of the most famous ski circuits, comprising hundreds of km of ski slopes, cable cars, ski lifts and chair lifts installations.
In order to start skiing around the Sellaronda loop, you need begin in one of the 4 major towns around the circuit: Corvara, Canazei, Arabba, Selva di Val Gardena.
The total length of the loop is 40 km. Along the ski circuit there are plenty of mountain huts where you can have refreshments or warm drinks after a skiing session. If you wish to complete de circuit in one day, you need to start before 10 o'clock in the morning, especially if it is your first time you're going to ski around the loop.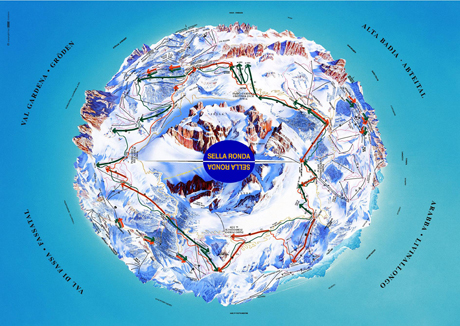 Go to top