Selva Gardena (Wolkenstein) ski resort is located in Gardena Valley at 1563 m altitude. It spreads over 5327 hectares and this Northern Italian municipality counts 2582 inhabitants of which 88% have ladin origin, 6% are italian and 6% are geman ethnics.
Selva Gardena winter resort hosts every year thousands of tourists and skiers. The resort has a capacity of 8000 beds in hotels, chalets, residences and apartments).
Selva Gardena is surrounded by forests and the natural landscape of the Dolomites with Sassolungo, Puez and Sella massifs. The resort is one of the most popular place for skiers and snowboarders but also for tourists who just enjoy spending time surrounded by nature, forests and mountains. That is why Val Gardena and Selva di Val Gardena receive numerous tourists both in winter and summer seasons.
Selva di Gardena is located in the hearth of Sella Ronda ski carrousel and provides state of the art skiing facilities and extensive pistes and ski slopes. One can enjoy iceskating and sledging in Selva Gardena as well as ice climbing and other fun winter activities.
In the warm season, Selva is famous for its hiking trails and mountain itineraries crossing wonderful natural areas. Many tourists, Italian or foreigners, come in the summer at Selva Gardena for mountain climbing and escalade, mountain-biking or nordic walking.
Selva di Val Gardena has unlimited sports facilities: iceskating rink, indoor tennis courts, bowling centres, pool clubs, football fields and pitches, horse riding school. One can even go fishing in the mountain rivers.
Selva Val Gardena Map in JPG and PDF formats.
Website: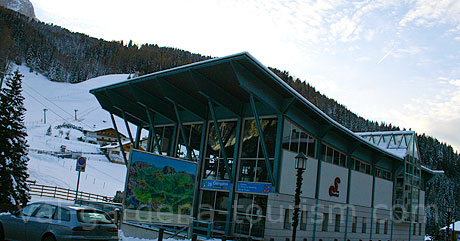 Go to top